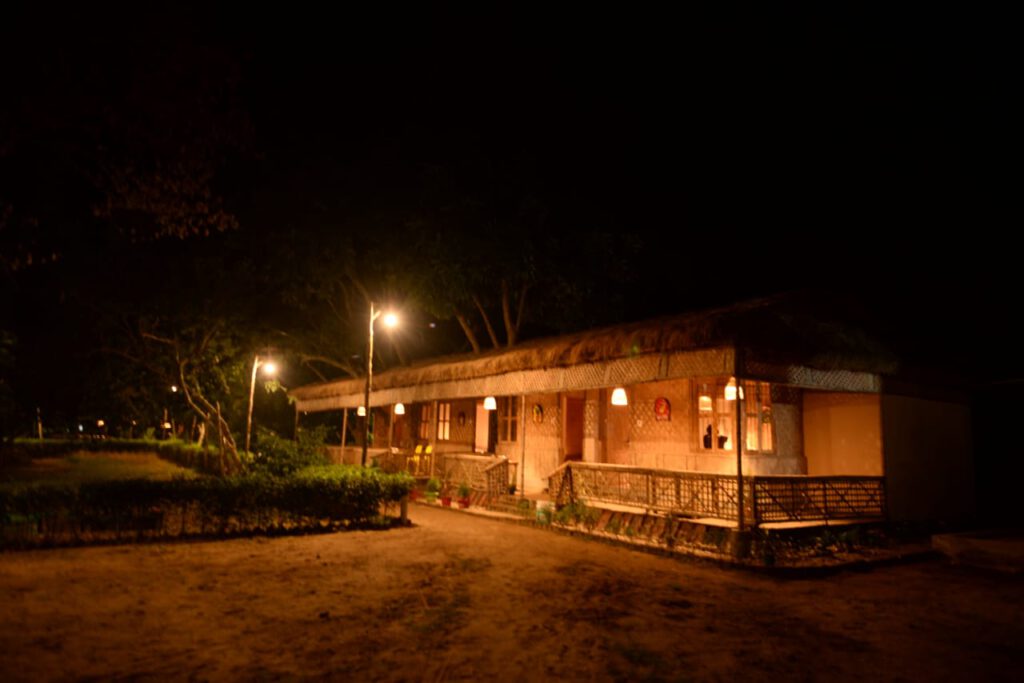 Mrinmoyee Kutir Village Resort has come up with an unique vision to create a sustainable eco tourism spot for those who want some relaxing places close to nature and close to Kolkata to stay away from a hassle bustle life for couple of nights. This is surely going to be an unique weekend destination from Kolkata. This place is very rich in culture and having some historic importance. Bankiput Beach is close to this stay.
Contact Number of Mrinmoyee Kutir Village Resort : 9038633211 / 9051160870
How To Reach:
Take Bus or Train to Reach Kanthi / Contai. Take Toto / Auto to dariapur Light house. Resort is nearby.
Tariff / Rate / Price / Cost of Mrinmoyee Kutir Village Resort :
Standard Double bed = 2100/- (Total 2 Rooms are There with Complimentary AC facility)
Triple Bed Room = 2800/- (Total 2 Rooms are there with Complimentary AC facility)
Four Bedded Room = 3600/- (Total 1 Rooms are there with Complimentary AC facility)
Chicken-700
* Welcome drink
* Lunch-Fish thali( Fry, Vegetable, Dal, Fish curry, Chatni, Papad)
* Evening snacks- Veg Pakora/finger chips & tea
* Dinner- rice/roti, vegetable, Desi Chicken
*Bed tea
*Breakfast-Luchi/paratha
Mutton-850
*Lunch : Fish Thali
*Evening snacks : Veg Pokora & Tea
*Dinner : Mutton Thali-
*Bed Tea with Biscuits
*Breakfast : Porota , Alur Dom
Chinese-900
*Lunch : Fish Thali
*Evening snacks : Chicken Pakoda & Tea
*Dinner : Fried Rice & Bamboo Chicken / prawn
*Breakfast : Luchi torkari/paratha
Child meal below 5 years-400/-
Extra add on
*Bamboo Chicken-200/-
*Chilly Chicken-200/-
*Paneer- 200/-
*Sea fish fry-150/- ( as per availability)
*Chicken Pakora- 150/-
*Prawn fry-180/-
*Finger chips – 70/-
*Veg pakora – 70/-
*Mutton- 230/-
*Fruit Salad – 150/-
*Omlet(double)- 35/-
* Lassi- 40/-
* Mocktail -60/-
*Tea-15/-
*Coffee-20/-
Gallery: