Mathaburu is one of the peaks of Ayodha hills in Purulia district of West Bengal. Mathaburu has always been a major attraction for adventure lovers, trekkers and local devotes for its serene natural beauty, challenging landscape and mythological history. Mathaburu Backpackers' Hostel is the best located accommodation at Mathaburu. Just in front of the Pakhi Pahar Foothill Jungle and the full terrain. Doing Jungle trail in the morning at nights is used to be a lifelong memory for anybody.
At the start of summer the red hot 'Polash' flower covers the valley makes it a serene to watch for. Because it is an elephant corridor and a reserve forest the area is thronged by wildlife and birds making it a nature lover's paradise. Due to its mythological significance a number of festivals are celebrated here like the Tusu festival and the Makar-sankranti festival during winter. The rich cultural heritage of the tribal people is an experience in itself. Also this part of Purulia is the birthplace of the famous masked martial danced performance called "Chaunach".
Mathaburu Backpackers Camp and Trek Camping Ground is the latest addition for adventure lover, Trekker and Educational excursion.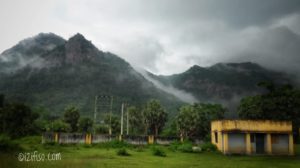 Contact Number for Booking the Backpackers'  Hostel and Tents:
Travel Fable: 9051160870 / 9038633211   (To know more details call them)
Why Mathaburu Backpackers' Hostel is So Special to Visit:
They are the only organization which only try to provide best travelling experience to our visiting guests
They utilize part of our revenue to local education and improvement
They used to have their own in-house camp in-charge to assist you all the time
Totally Pet-friendly, Family and Kid-friendly
Electricity is there in all room and throughout the campus (No backup)
Running water with 4 shared bathrooms for the visiting guests (2 western with commode and 2 Indian style)
They have they own Common dinning place to sit and have food together along with adda.
Camp is just at the foothill of Pakhi Pahar Backdrop
Backside of the Hostel is totally surrounded by Dense Jungle
Nicely connected to major place from all over bengal
Alcohol free Zone (Open alcohol consumption within hostel area is strictly prohibited)
Activites to Do:
You can go for Total Ayodhya, Purulia Sightseeing from this place as this is the prime location and all the major places surrounding Ayodhya Hill Range is pretty close to this Hostel
Hill camping for College Excursion
You can do Mathaburu Trek at Evening and Pakhi Pahar Jungle Trail
Go for some photography and in search for jungle animal
Relaxing on Hammock
Village roaming and watching sunset from Matha top if you would trek to that place
Adventure:
Educational Excursion / Mathaburu Top Trek / Jungle trail at nights these are the top most interest what you can do by staying at that Hostel.
Those who looks for Mathaburu Evening/Night Trek Adventure and Pakhi Pahar Jungle Trail can visit this:
You can do camping at night. You can do chicken grill / BBQ at night and enjoy with you pal. You can relax on hammock and read any novel. You can do birding and trailing through Jungle.
Facts to remember while going there and Suggestions:
1. Do bring your mobile Powerbank (Electricity may go any time)
2. Carry mineral water for kid below 2 yrs. (Just for precaution, though they give enough Mineral water for their guests)
3. Carry mosquito repellent or Roll on as a precaution though it's less mosquito now
4. Only BSNL, Airtel and Jio be connected. So prepare accordingly
5. Drinking / Alcohol is strictly prohibited within Backpackers camp. We'll not allow you to drink openly or anywhere visible to us. They will also not tolerate any nuisance occurred by you and will have every rights to throw out any guests at anytime from our camp.
Camp Timing
               Check-In Time : 8 AM / 12 PM
               Check Out Time 8 AM / 11 AM
Food:
11:00 A.M. Check in Welcome Drinks (Nimbu Pani)
01:30 P.M. Lunch (Rice, Dal, Vegetable Curry, Fish Curry/ Egg curry)
06:00 P.M. Evening Snacks (Vegetable Pakora, Puffed Rice, Tea)
09:00 P.M. Dinner (Rice/Roti, Dal, Vegetable Curry, Chicken Curry)
08:00 A.M. Breakfast (Puri, Vegetable Curry, Tea)
How to Reach at Mathaburu Backpackers' Hostel:
Route 1: (Bus Route)
Kolkata -> Bankura –> Purulia –> Mathaburu (Direct Bus Service from Esplanade, Tiger More is the Bus stop just 200 Mtrs away from the Hostel) (Total approx 300 Kms, Fare: 200 INR)
Kolkata to Mathaburu (Hill Queen: 7278861247, Contact them to book your seat way before the journey, Leave at 10 PM from Esplanade and will reach at 7 AM in the morning at Tiger More, Bagmundi)
Route 3: (Train Route)
Trains for Barabhum (Nearest station to Mathaburu):
HOWRAH to BARABHUM:
Howrah Chakradharpur Passenger (58011) 23:05 HWH-06:59 BBM (All days)
Lalmati Express (12865) 08:30 HWH-13:33 BBM (Tuesday, Saturday)
Howrah Ranchi Intercity express (22891) 12:50 HWH-18:00 BBM (Wednesday, Thursday, Saturday)
HOWRAH to PURULIA:
Howrah Purulia express (12827) 16:50 HWH-22:20 PRR (All days)
SHM GKP Express (15021) 20:20 SHM- 01:45 PRR (All Days)
Rupasibangla Express (12883) 06:25 SRC- 11:50 PRR (Tuesday)
Samarsata Express (12152) 21:15 HWH-02:37 PRR (Friday, Saturday)
PBR Kaviguru Express (12950) 21:25 SRC-02:37 PRR (Sunday)
SRC ANVT SF Express (22857) 08:55 SRC- 14:25 PRR (Monday)
NB: Camp has Pick-up and Drop facility from Barabhum or Purulia Station
From Barabhum Station Mathaburu Backpackers' Hostel is around 14 Km, Purulia to Hostel is near 60 Kms ( Contact Tarak: 9614161528)
Top Locations and Purulia Sightseeing from Mathaburu Backpackers' Hostel:
Ayodhya Hill Top
Lower dam
Upper Dam
Bamni Falls
Turga Falls
Marble lake / Blue Lake
Surjo Pahar
Mayur Pahar
Pakhi Pahar
Lohoria Temple
Shiv Mandir
Muruguma dam
Deulghata
Charida Village (widely known as Mukhosh Gram)
Khaerabera Dam
Paprakocha Dam / Padri Lake etc etc
Baranti, Garpanchkot is little far from this place and around 90 Kms
Accommodation:
There are total 6 rooms with each for 2-3 people accommodation.
For large Number of People booking prior intimation is required then they will arrange for tents for other people.