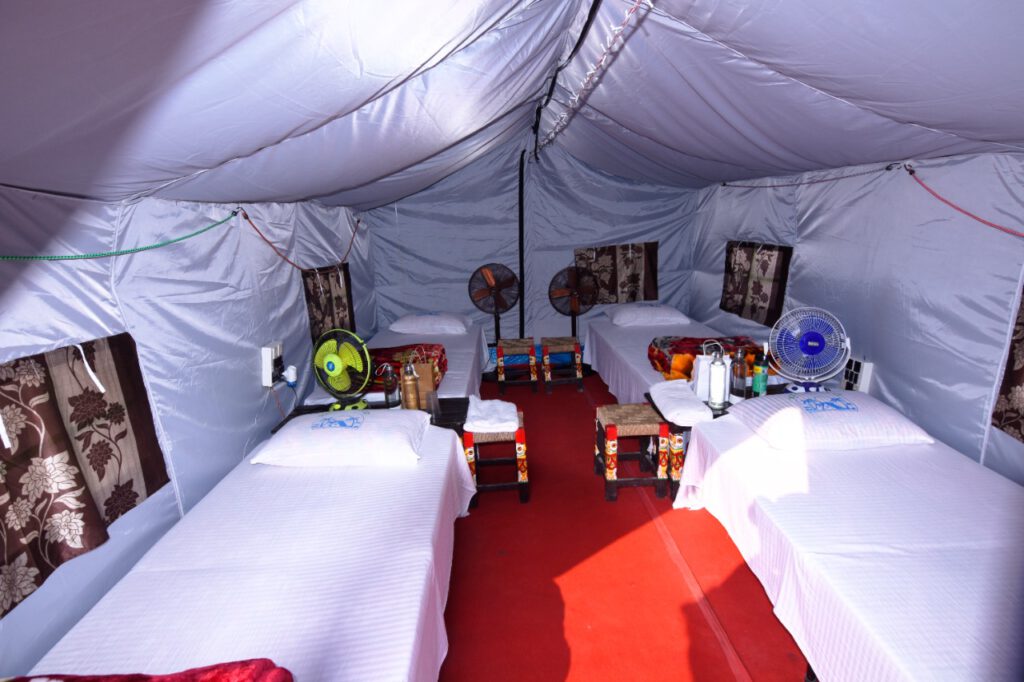 Lalganj Beach is a new virgin beach slowly getting people interest in recent times due to it's freshness and beauty. This new beach near bakkhali is becoming paradise for nature lovers to spend some quite nights in tranquility. When beach camping and simlicity of local people and village hospitality get mixed, that becomes worth to experience for sure at least once.
Keeping in mind the changing travel taste of people and camping requirement they have set up premium camping tents with cot with common bathrooms. Stays have been comfortable and nicely decorated with curated food menu to make your stays fulfill.
This is our request to all of you to experience your holidays in soltitude away from city's crowd at Lalganj Beachstay. This beach comes with pristine white sand, plenty of extinct red crabs, serene Mangrove & Jhau forest near 10 Mile bazar near Bakkhali on National highway 117.
This camp is totally safe and secured and you can come up to the camp direct by your 2 and 4 wheelers.
Lalgunj Ghare Baire Beachstay Contact Number: 9051160870 / 9038633211
Tariff:
1. There are total 3 premium tents(1 six person tent and 2 triple sharing tent) – Rate 1500 per head per day including fooding lodging
2. 4 small camping dome tents (2 person each) – Rate 1250 per head per day including fooding lodging
3. Day Outing Tariff: Rate 750 per head per day including lodging and Lunch and evening snacks.
Total 20 person accommodation is present now with 2 common western bathrooms.
Major Attraction:
1. Day zouting, resrting within jhau forest and experience the beauty. zthis location is an ideal destination for bikers and backpackers mainly.
2. Camp Fire & BBQ
3. Fishing at zproperty pond
4. Beach Walk & Village ztour
5. Guided tour to dry fish processing centre(on season only)
6. Boat ride to Sunset point, Saptamukhi river mouth
7. Sightseeing tour to nearby tourist attractions in Bakkhali range.
Sample Menu:
Welcome Drink: Lichi/ Mango Juice
Lunch: Ghee, Lemon, Saag/ Sukto, Dal, Bhaja, Mach Baja (Amudi/ Topse/Ruhi), 1 Sabji (Seasonal), Fish Curry (Prawn, Vetki, Parshe, Pomphret etc), Chatni, Papad
Evening Snacks: Muri/ Chire Bhaja & Veg Pakoda, Tea
Dinner: Rice/Roti, Salad, Dal, 1 Sabji, Chicken Curry
Breakfast: Luchi, Tarkarai/ Roti Sabji, Boiled Egg/ Omlet, Sweet, Tea
This is a sample menu only. Actual menu can be changed on case to case basis
How to Reach Lalgunj Beach Camp / Khalisthan Beach Camp:
Take Bakkhali Bound Bus and drop at 10 Mile bazar. Then take Toto up to Camp.
Take Train or Bus up to Namkhana. Take Auto/Bus/ Magic up to 10 Mile bazar. Take toto to Camp.
Gallery: