Sardarpara is a small village at the extreme part of India Bangladesh Border within North 24 Parganas and beside Rai Mongol River, WB. Sardarpara is known as last and only tribal village at Sundarban. This small village is situated within the last civilized Island before Bangladesh within India. It's geographic location is very much interesting. Sundarban which is just 6 Kms away from the village. The most unpopular yet little known place near to this village is Samsernagar which itself carries plenty of stories of tiger and human. Due to lack of tourism this part of Sundarban is still very much untouched, unexplored and totally virgin which makes it more beautiful and dense and one of the top-most offbeat location for upcoming days. This small village is rich in rural culture and local activities and most of the people is attached with firming and local works.
Contact Details: 
The Travel Fable
Prosun Homestay: 9051160870
Story of Samsernagar:
Samsernagar is the closest encounter place of Sundarban. Even 6-7 years back tiger trespassing into the village was a regular story. This eastern part of Sundarban contains the 90% of the total tiger of Indian Sundarban. As this part is still out of Tourism so wildlife have chosen this part for their habitat. So this Eastern part is a paradise for wildlife photographer, Animal lover and ironically chances of tiger and crocodile spotting is maximum here. Samsernagar is divided from Sundarban by a small man made canal, but during low tide there used to be no water and during high-tide with full water local fisherman takes their fishing boat out for daily work. Many people are depended on this Sundarban in terms of catching Big size Crabs and collecting pure honey from the Jungle. Somebody do it legally and some illegally but all the activities used to be very much adventurous. They take risk of their life and almost everyday get into the Jungle.
Few years back Forest department has circled the full Sundarban by Nylon wire to protect the local people and since then casualties has been minimized significantly. In 2009 the full village was submerged during the disaster of Ayela and since then this village is trying to stand on it's own feet and to some extent successful though and going to be the attraction for coming days.
About Prosun Homestay, Why to There:
This property we are planning to bring you back to your own childhood. We named this property to fulfil this wish to go back at your ancestral place, where you wish to have big ponds with plenty of fishes and you want to catch those. You wants to have big Fruits, flower garden and own a vegetable growing farm. Plenty of duck and local chicken. Yes, they have created the property such way within a remote village of Sardarpara, which is known to be the last civilized island before Bangladesh and it's located beside world's largest mangrove Jungle, our pride Sundarban. They have their boat so as to go for Sundarban Jungle Safari and the most important part of this journey is that you will be able to experience the most beautiful part of Sundarban which is mostly unseen and hardly any guests go for this trip. It's pristine and virgin and beautiful from all sense.
Property Details of Prosun Homestay, Accommodation at Samsernagar:
The Total Total Property is developed over 1 Acre land to accommodate all the possible things which you might miss of your childhood or your next generation has never experience that. For that reason we have developed a conceptual accommodation taking bamboo and mud in count. We have created 4 big size Bamboo cottages having capacity of 4 to 5 people in every cottages. All cottages are with attached western bathroom We have 1 big size ponds within the campus with full of fishes and we encourage our guests for fishing activities and we have all those arrangement. We have plenty of Fruits and flowers within the entire property and also some species of trees of Sundarban. We are now planning for farming of fishes, ducks and local chicken within our property so as to provide fresh food to our guests. We have planted plenty of vegetables and mostly we use those for our guests. We are trying to be more organic and that will be an excellent learning for Kids and children. Parents can bring their child to give them the experience of that how it used to be the typical "Village stay and the home" of their times and how to be accustomed with the natural beauty and simplicity.
This is how we are developing our accommodation near Samsernagar and rai mongol river with Bamboo and Mud so as to provide the flavour of rural lifestyle. We will arrange campfire for evening where you can encourage some good time with your pal or can interact with other guests on that day to create some travelling bonding. You can swim within pond or can catch fishes by net as well. There are plenty of activities to do and wonderful luxurious stay.
How to Reach Gobindakati, Samsernagar, Offbeat Sundarban:
Try to Catch Hasnabad Local from Sealdah as early as possible and it will take around 2 hrs and 15/20 mins to reach Hasnabad. (Fare 20 INR)
You can walk for 6-7 minutes for Hasnabad Ghat or you can take a van from the Station up to Ghat. (10 INR)
Cross the River at Hasnabad and reach Par Hasnabad. It will take just 4-5 minutes to cross the rive. (2 INR Per head)
After Reaching Par Hasnabad Take Auto or Bus to Lebukhali. It will be around 45 minutes of journey. (22 INR in both Bus and Auto)
After Reaching Lebukhali cross another river and reach Dulduli. (Ferry cost 2 INR per head)
Once you reach Dulduli take Samsernagar bound Auto which will drop you at Gobindakati. It will be another 30 minutes of Journey. (15 INR)
After reaching Gobindakati you need to walk down to the camp through a brick road.
Train Time From Barasat to Hasnabad and Sealdah/Majerhat to Hasnabad:
**Please click on the image to see enlarge view of Train Timing
Accommodation at Gramer Bari Resort, Samsernagar:
5 Big Size bamboo Cottages with 2 big size double bed in every cottage (maximum up to 4 people in every cottage)
1 Big Family Bamboo Cottage for 3 people (So Maximum Accommodation up to 23 People)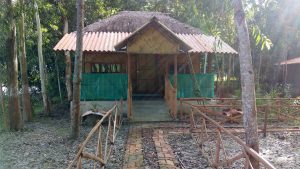 Tariff:
1650 INR Per Head Per day (including Fooding, Lodging, campfire, Mineral water and Unlimited catch and release fishing activities)
Gallery:
Offbeat Sundarban Tour Plan: 
Day 1: Get into the Resort and leisure time with nearby village outing and some Fishing activities within Resort and Adda at Evening
Day 2: Early Morning Tea and get ready for safari. Safari will start within 8 AM to 9 AM and it will be around 10-12 hours Boat Safari to the most offbeat part of the Sundarban. Breakfast, Lunch, Tea and evening Snacks will be done within Boat. Back to resort and Have dinner
Day 3: Early Morning Tea, Then Breakfast and check-out at 12 PM.
NB: Full Boat Safari Cost vary between 5000 – 7000 INR per day depends on Season and no of guests upto 30 guests one time.