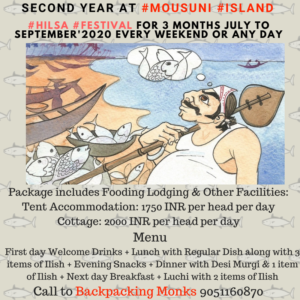 NB: Any booking prior to 1 month before of your journey date will be given 1000 Flat cashback as discount voucher
Plan Your Visit to Mousuni Island from now and book your presence ASAP.
Call to Backpacking Monks: 9051160870 for Immediate booking
Third Year Grand #Hilsa #Festival at Mousuni Island is going to be celebrated this year also.
We are taking booking for month of July to September'2021.
React first to book your weekend visit or weekdays any moment.
Those who will not be interested into this Offer can also book the same accommodation with the same previous rate of 1200 INR for tent Accommodation and 1500 INR for Mud Cottage Accommodation.
Menu:
ওয়েলকাম ড্রিঙ্কস:
কোল্ড ড্রিঙ্কস
মধ্যাহ্ন ভোজন :
ভাত
ঘি
ইলিশ ভাজা আর তেল
ডাল
বেগুন ভাজা
কচুশাক দিয়ে ইলিশ মাছের মাথা / অন্য কিছু পদ ইলিশের মাথা দিয়ে
সরষে ইলিশ
চাটনি
পাঁপড়
আইস ক্রিম
সন্ধ্যের মেনু:
মুড়ি
চপ
রাতের মেনু:
ভাত/রুটি
চিকেন কারি
বেগুন দিয়ে ইলিশের ঝাল
চাটনি
পাঁপড়
ব্রেকফাস্ট
লুচিয়া
সবজি
ডিম্ সিদ্ধ
মিষ্টি
NB: Maximum 3-4 pcs of Ilish will be served to everybody
Call: 9051160870 for Immediate booking